Regular price
Sale price
$19.99
Unit price
per
Sale
Sold out
There are two types of people in this world:
1. People who love CSE and can't-get-enough of our products (same 🙋)!
2. People who haven't been introduced to the best-tasting supplements on the planet.

The CSE Starter Pack is perfect for everyone - if you're new to CSE or our biggest fan! It's the ultimate introduction to our clean and tasty products–all in one box! It's the best way to sample a new product or flave, and it's also great for gifting! The CSE Starter Pack offers an insanely delicious taste of Clean Simple Eats, featuring 12 of our best-selling products: two Protein Powders, two Super Greens Mixes, two Super Collagen Mixes, two Hydrate and two Energy Drink Mixes and two Flavored Nut Butters.

The CSE Starter Pack includes:
1 Simply Vanilla Protein Powder Stick Pack
1 Chocolate Brownie Batter Protein Powder Stick Pack
1 Peachy Super Greens Mix Stick Pack
1 Raspberry Lemonade Super Greens Mix Stick Pack
1 Blackberry Lemonade Super Collagen Mix Stick Pack
1 Peach Mango Super Collagen Mix Stick Pack
1 Hawaiian Sunrise Hydrate Drink Mix Stick Pack
1 Coconut Lime Hydrate Drink Mix Stick Pack
1 Strawberry Watermelon Energy Drink Mix Stick Pack
1 Sour Cherry Energy Drink Mix Stick Pack
1 Cinnamon Bun Almond Cashew Butter Stick Pack
1 Aloha Coconut Macadamia Butter Stick Pack
View full details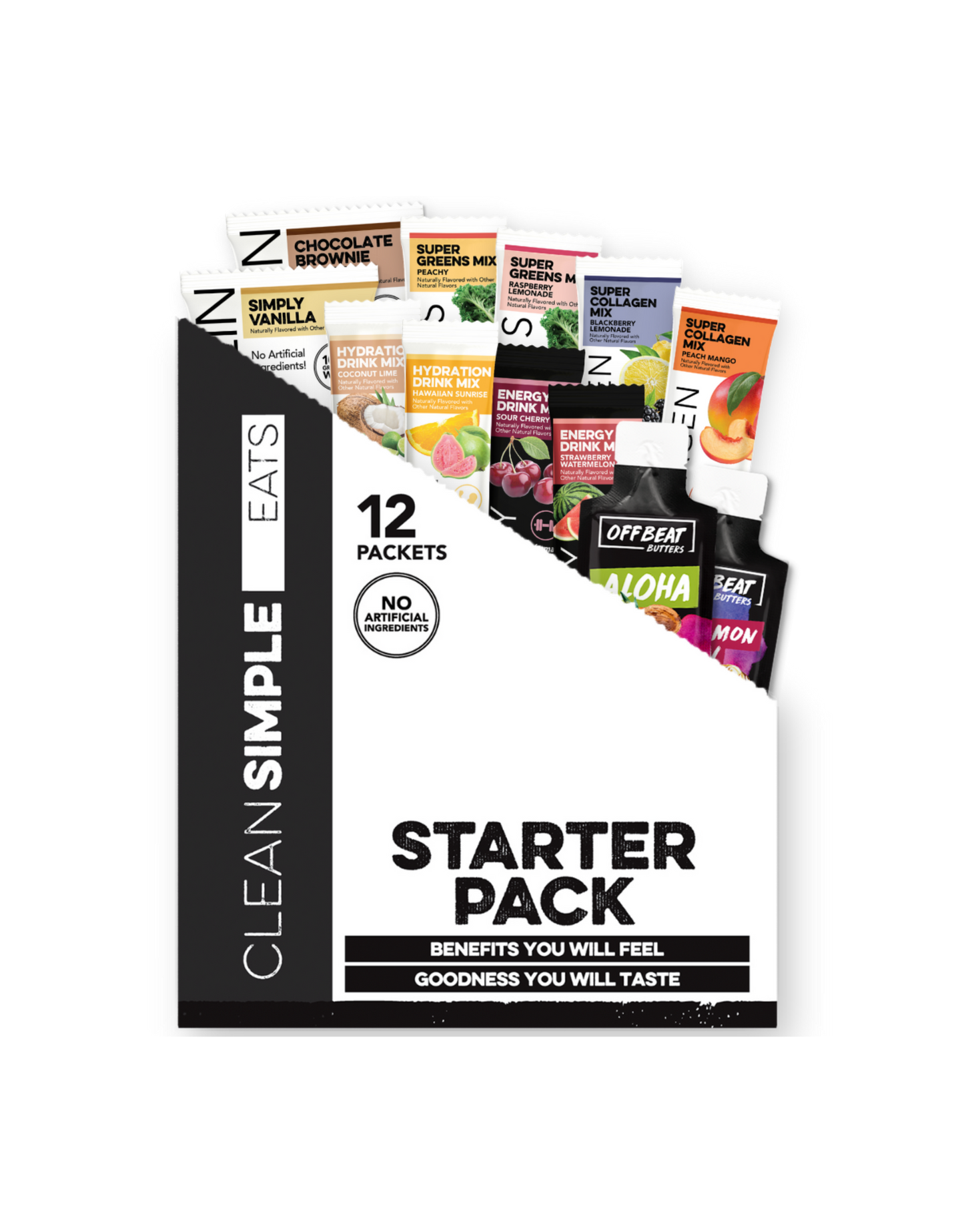 You may also like
Protein Powder: Simply Vanilla (30 Serving Bag)

Protein Powder: Brownie Batter (30 Serving Bag)

Protein Powder Variety Pack (10 Single Serving Stick Packs)