CSE+ App
Plan / Prep / Track
Get 800+ macro based recipes, right in your pocket!
Premium Members Get
Free US shipping on all orders when shopping through the app

Easy tracking AND planning of all CSE meals, restaurants, and everyday food items, utilizing custom drag-and-drop technology, barcode scanner, voice recognition and more

Access to every single CSE recipe (800+!) including our meal plans, Treats books, social media, blog, product recipes, and regular app exclusives

Customized grocery lists and menu planners

Dozens of full workout videos, plus seasonal bodyweight and advanced workouts with guided journaling designed to help track your progress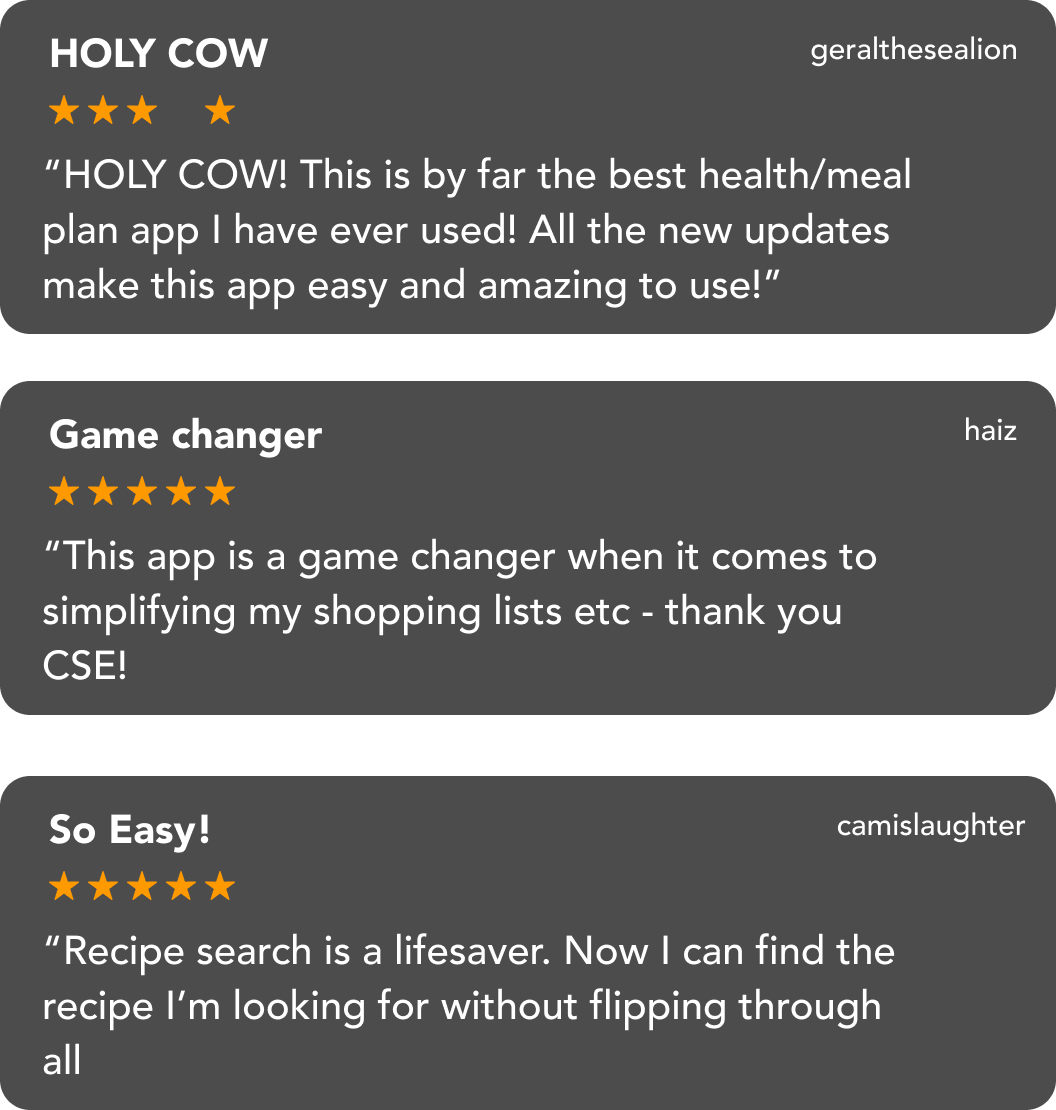 Frequently Asked Questions
How much does the app memberships cost?

Premium CSE+ app memberships are available for $14.99 per month, or save 30% by signing up for an annual membership for $119.99.
Where do I sign up for the free trial month?

All app users are eligible to access all of the Premium features for one month, free of charge. To take advantage of this free trial, tap the monthly membership option on the My Membership page under My Profile. You will have the opportunity to confirm your free trial (if eligible), then the app will automatically convert to a monthly membership at the end of the trial, unless canceled or upgraded to a yearly membership.
I never receive the code to log in. Help!

For security reasons, we don't store any passwords; they are sent directly to you via SMS. First, ensure you are on a strong internet connection. If your carrier is blocking the SMS, your best bet would be to reach out to your carrier and ask them what your options are.
How do I share my membership with a family member?

If you have Apple Family Sharing enabled, you can share the CSE+ app with up to five family members! Instructions are here: https://support.apple.com/en-us/HT201088. Once Family Sharing is set up, new members should tap "Restore Purchase" on the top right of the My Membership page. Everyone technically has their own account this way, so planned meals and tracked foods will not carry across accounts.

Google does not support Family Sharing of in-app purchases.
Can I gift an app membership to someone else?

We love this idea, and are so grateful you want to share the love with someone else! Because all app memberships are processed through Apple and Google, and most often charged to the payment method you have on file with them, you may need to reach out to those companies to see if a gift card to the specific app store would work for this use. We are working on a better solution for this - stay tuned!
How do I get the free shipping to work?

If you have an active premium app membership, just shop the CSE website through the app (not in another browser) and the free shipping benefit should apply automatically, regardless of the amount of your order! If you're experiencing trouble, please contact app support.
If I have purchased hardcover meal plans, will I have access to those on the app?

The app and the hardcover meal plans are completely separate. The app membership includes access to every single CSE recipe and premium feature; there is no a la carte option for individual plans and features.
Is it possible to print recipes or my shopping list from the app?

Our recipes have been formatted to be as user friendly as possible for cooking right from the app (try turning your device sideways inside a recipe and see what happens!). Printing recipes or planned meals is not supported. The shopping list can be shared to another device or saved to your phone for convenience.
Where do I find the eating out guide?

Our macro-friendly restaurant suggestions can be found in two places in the app, from both the Planning and Macros screens. To plan restaurant meals, tap the plus sign on the Planning screen and select "Restaurant." To track them, but not plan, tap the plus sign on the Macros screen. You can view and select restaurant meals we have identified as Macro Friendly (including our CSE Kitchen meals), or many other meals from a wide variety of restaurants.
How do I cancel?

In-app purchases, such as the CSE+ membership, are run and billed through Apple and Google.




Google: The easiest way to cancel your membership is to open the Google Play app, click your username circle in the top right corner, click Payments & Subscriptions, click Subsections, then CSE+ app to cancel. https://support.google.com/googleplay/answer/7018481?co=GENIE.Platform%3DAndroid&hl=en

Apple: To cancel or request a refund, open your Settings app, click your Apple ID, click subscriptions and then the cancel button.

iPhone Settings > Click User's Name (Apple ID, iCloud, Media & Purchases) > Subscriptions > Clean Simple Eats App > Cancel Subscription
How do I request a refund?

All in-app membership are billed through Apple or Google. We may be able to issue refunds for our Google subscribers. After canceling your membership in Google Play, send a message through the app to our support team, or email appsupport@cleansimpleeats.com and include your User ID. 

All Apple membership must be refunded through Apple. Due to their strict privacy terms, Apple never shares any of your billing info with us, which means we can't issue any refunds since we don't have any payment info to refund. This link is usually the quickest way to ask Apple to refund iPhone in-app purchases: https://support.apple.com/en-us/HT204084
Where do I submit a suggestion for the app?

Email appsupport@cleansimpleeats.com to give a suggestion, ask a question, or receive tech support. If you love the app, we would greatly appreciate your 5 star review in the App Store or Google Play Store.